---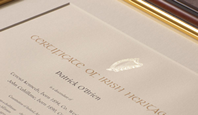 04

Apr 2012
Certificate of Irish Heritage at the Fahy Club, Buenos Aires
Cristina Abaca Hogarty , grand-daughter of Joseph A Hogarty from Co. Westmeath recipient of a Certificate of Irish Heritage, pictured at the St. Patrick's Day lunch at the Fahy Club, with the Irish Ambassador,  His Excellency James McIntyre (right) and Andrew Noonan, 2nd Secretary.
Certificates of Irish Heritage are issued by the Irish Government to those who have at least one Irish ancestor. The Government wants to provide official recognition to those who are proud of their Irish roots and provide them with a statement of their heritage which can be displayed with pride.

There are three Certificate designs available, each including elements which reflect Ireland's history and culture, and a quote from Article 2 of Bunreacht na hÉireann (The Constitution of Ireland) which states:

"The Irish nation cherishes its special affinity with people of Irish ancestry living abroad who share its cultural identity and heritage."
For more information on the Certificate of Irish Heritage, visit www.heritagecertificate.ie.