---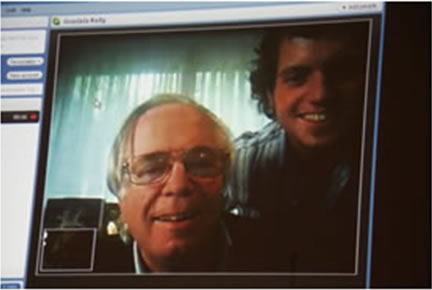 21

Nov 2010
The Argentine Connection
Helen Kelly gave a series of lectures on Irish Genealogy in the midland counties of Westmeath and Longford in the Autumn of 2010. Her talks consisted of two elements – guidelines on how to start your family tree and a talk on links between the Midlands of Ireland and the Irish in Argentina.
The first of her talks took place on the 8th October 2010 in the rural setting of Boher Hall in County Westmeath – the epicentre of the area from whence thousands of people emigrated to the Pampas of Argentine in the early/mid 1800s.
History was made that night when this rural community were the first to use modern technology to link with their counterparts in Argentina. As a further show of solidarity, funds raised on the night were divided equally between Boher community hall, and the Fahy Club in Argentina. Using video cameras and the Skype computer programme, the assembly of over 100 people were overjoyed to see and hear descendants of 19th century emigrants in Argentina, converse with them in English which was laced with familiar tones and idiom of their native county.
Further talks were held in Ballymahon, County Longford and at the historical Belvedere House in Mullingar on the 21st October 2010 and the 12th November respectively.